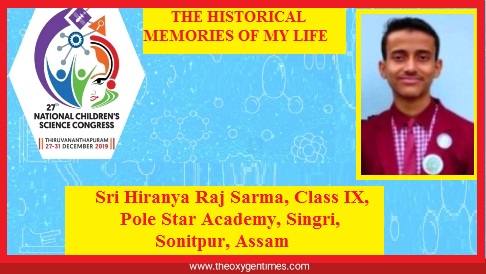 THE HISTORICAL MEMORIES OF MY LIFE
Sri Hiranya Raj Sarma, Class IX,
Pole Star Academy, Singri,
Sonitpur, Assam
One of the most interesting and memorable time of my life was the 27th National Children's Science Congress, 2019. I started the journey of NCSC from the District level with a Project Titled ---- "STUDIES ON WILD SNAKE PLANT [SANSEVIERIA TRIFASCIATA] AS AN ALTERNATED SOURCE OF FIBRE". I with my respected guide Sri Sailendra Sarmah sir worked very hard to make this project successful. We worked day and night and got selected in District level and to State level. I was really happy, excited and nervous to participate in the State level competition which was organized at Tinsukia.
So, I participated in the State level NCSC held at JNV, Rangajan, Tinsukia, Assam and with great excitement. I stayed at JNV hostel along with my friends from our District along with other participants from other Districts.
I have presented my Project before the Judges on the 2nd November. I was very nervous but later on I have managed myself. On the last day, the result was declared and I was selected as "State Child Scientist" and conferred me with "Khagendra Nath Brahma State Child Scientist Award". I was quite excited and couldn't believe my ears that I was selected as the "State Child Scientist". All my district teammates became jubilant and excited with the news that the "State Child Scientist Award" came to Sonitpur District. This award has opened door to me for participation at the 107th

The Indian Science Congress, in

Bangalore along with the National Children's Science Congress in Kerala.

The National level Children's Science Congress was organized

during 27th to 31st December 2019

at Mar Lvanios Vidya Nagar Thiruvananthapuram, Kerala.
Kerala is very beautiful place, full of Natural environment and very clean city. I have participated in this event with Team Assam along with other friends from different States of India. I had leant many things from the starting day of my journey of NCSC.
I found the interaction session was the most valuable part of this event. We have learnt many new things from the interaction with great Scientists. I have gained much knowledge which I will utilize in my future.
During the Cultural Programmer, we perform our Bihu Dance as the Culture of Assam and it was very proud moment for us to show our Culture and tradition at this huge platform of NCSC outside Assam.
At the last day i.e. on the 31st December I had a mixed reaction and feelings on the whole episode of NCSC 2019 and I was become a little bit emotional and sentimental. The emotion and sentiment is for the friendship bond that I have developed during my journey of NCSC from the District Level to the State and to the National Level. We have completed the National Level journey of NCSC on the 31st December 2019.
On the 1st Journey /2020 after the successful completion of the National Programme, I went to Bangalore along with my father to participate in the 107th Indian Science Congress. It was 11 hours comfortable night bus journey from Thiruvananthapuram to Bangalore and we have reached the venue on the 2nd December morning. The 107th Indian Science Congress was organized at the University of Agricultural Sciences, GKVK Campus, Bangalore, Karnataka from 3-7th January, 2020. The organizer have made our staying arrangement at a Guest house of the University. Here at Bangalore, I met another friend participant Sri Bivash Gogoi of senior group from Assam who was also to participate in the great Gala event.
This event was inaugurated by Sri Narendra Modi , Prime Minister of India and Sir M. Venkaiah Naidu, the Vice President of India was the Chief Guest of the Valedictory function. I witnessed the both programmes which was a unique experience for me.
Every representing State of India has their own Stall in the Gala Exhibiting Pavilion in the Indian Science Congress. So we, I and my fellow friend Bivash have exhibit our project in the Assam Stall which was prepared for Rashtriya Kishore Vaigynik Sammelan along with other State Stalls. The Exhibition stall was crowded with the visitors which include students and teachers from schools and colleges, College and University Faculties, Research Scholars, Parents and Journalists etc.
I have an opportunity of visiting different exhibition stalls and also witnessing paper presentation of Farmer's Science Congress, Women's Science Congress, Mathematical Science, Earth System Science etc.
At the last, I offer my gratitude to: Sri Sailendra Sarmah, my Project Guide, Sri Swarup Sarma, Principal of my School, Dr. Deben Sapkota, Professor, College of Veterinary Science , Guwahati, Dr. Bhim Pd. Sharma, Professor of Tezpur University, Dr. Palasmoni Saikia, Professor of Darrang College, Dr. Pitamber Sedai, Sri Biswajit Dey, Professor of L.O.K.D. College, Sri Ranjan Saikia sir and my Parents to help me in this journey of NCSC/2019
At last, I will share my experiences and knowledge with the junior children and motivate them to take part in this NCSC platform of Science and Technology to solve their local problems and share their ideas in this huge platform.
Apart from the spark of scientific temperament, this journey of NCSC has taught me many things. The fellow feelings, team Spirit, community living, self discipline, value of time and value of money, people interaction, and feeling of adjustment are among them and this journey will change my thinking of mind.
Thank you very much NCSC and Long Live NCSC.