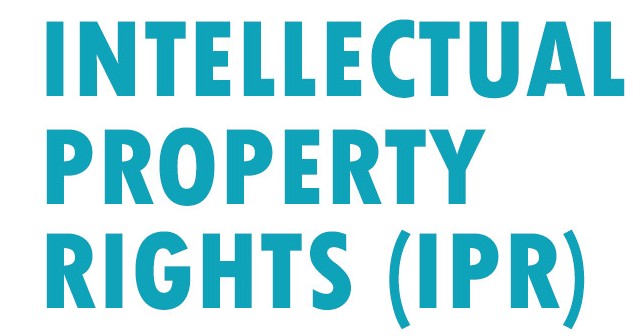 The term Intellectual property refers to the creation of human mind such as inventions, literary works, artistic work and designs used in commerce. Intellectual property Rights (IPR) protects the interest of the creators by giving those rights over their creations.
As per Trade-Related Aspects of Intellectual Property Rights (TRIPS) Agreement, the different forms of IPR are :
Patents

Copyrights and Related rights

Trademarks and Service marks

Industrial Designs

Geographical Indications

Layout Design of Integrated Circuits

Trade secrets
Patent
Patents are granted for inventions only. It is the exclusive right granted by the Government to the inventor to make, use, sell or import the patented invention and prevent others from making, using, selling or importing the invention, for a limited period of time, within the geographical boundaries of the nation. In India, the term of patent is 20 years. There is a myth that only complex inventions are Patentable. But small inventions are also patentable. For example; Patent for safety pin was granted to Walter Hunt in 1849. Patent for the needle of sewing machine was granted in 1854.
Copyright
Copyright is the exclusive right granted to the owner of a literary, artistic or scientific work to use or authorize others to use it for its reproduction, public performance, translation and adaptation. The work includes Novels, Music, Paintings, Sound Recordings, Films, Computer Programs, etc. Copyright protection for literary, musical and artistic works can be enjoyed for the life of the author plus sixty years, whereas for cinematographic/photographic works, protection is for 60 years.
Trademark
A Trademark (popularly known as brand name) is a unique visual symbol or a distinctive sign used by a Business Enterprise / Individual to identify the source of their goods/services and to distinguish their goods and services from those of other entities. The term of protection is initially for a period of 10 years, and can be renewed indefinitely by paying the renewal fee, every 10 years.
Industrial Design
An Industrial Design is the ornamental or aesthetic aspect of an article. The design may consist of three dimensional features such as shape or surface of an article, or of two dimensional features such as patterns, lines or color. It is primarily of an aesthetic nature and does not protect any technical features of the article to which it is applied. The term of protection is initially 10 years, and can be renewed for 5 more years by paying the renewal fee.
Geographical Indication
A Geographical Indication (GI) is a sign used on goods that have specific geographical origin and possess qualities or reputation that are due to that place of origin. Some of the famous GI registered goods are Darjeeling Tea, Muga Silk of Assam, Muga Silk of Assam (Logo) Joha rice variety of Assam , Tezpur Litchi ,Boka Saul (mud rice), Ginger of Karbi Anglong, Assam, Kancheepuram Silk, Basmati Rice, Alphonso Mango, Tirupathi Laddu, Khasi Mandarin, Tripura Queen Pineapple, Naga Mircha( Naga Chili), etc. GI is registered for an initial period of 10 years, and it can be renewed indefinitely by paying renewal fee every 10 years.
Layout Design of Integrated Circuits
Semiconductor Integrated Circuits Layout Design Act, (SICLD Act – 2000) provides protection for the layout designs of integrated circuits. The term of protection is for 10 years only.
Trade Secret
A trade secret may be a formula, practice, process, design, instrument, pattern or compilation of information which is not generally known or reasonably ascertainable, by which a business can obtain an economic advantage over their competitors or customers. The benefits of trade secret can be enjoyed as long as the secrecy is maintained.
Protection of New Plant Varieties
The protection of New Plant Varieties and Farmers' Rights Act 2001 provides protection to the new plant varieties. It includes breeders' rights, farmers' rights and researchers' rights. New variety, Extant variety are protected under this act.
How to take a patent?
Conduct prior art patent dataset search to determine whether the invention is eligible for. Getting patent. (www.google.com /patents)

Prepare provisional/ Complete Specification. (Form 2)

File the application in patent Office of the States: Submit Form 1, Form 3, Form 5, along with prescribed fee, at the time of filing.

File request for early publication (Optional): Submit Form 9 with prescribed fee – application will be published in patent journal within 1 month; otherwise it will be publishes after 18 month).

File Request for Examination: Submit Form 18 with prescribed fee and it should be filed within 48 months from the date of filing or priority.

Respond to first Examination Report (FER): After examination, FER will be issued to application and he/she shall respond to the objection in FER within 6 months from the date of FER.

Grant of patent: The Controller will grant patent upon satisfactory response by the application. Issuance of patent will be published in patent journal and patent Certificate will be issued.
( For more details and application forms, please visit the website of Indian Patent Office www.ipindia.nic.in)
_____________________